Orientation program on Entrepreneurship
16-Mar-2023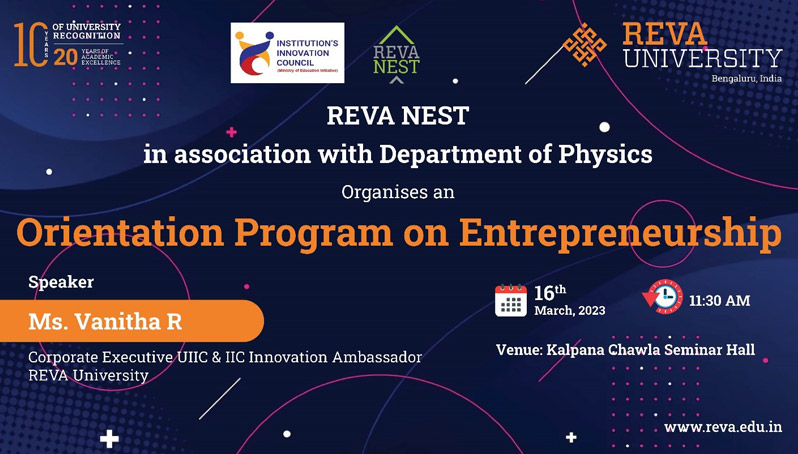 About the event - REVA NEST & IIC Activities is a flagship initiative by REVA University, intended to foster innovation, create jobs and facilitate investment. The program aims to nurture innovation and entrepreneurship, which would further help in the economic growth and development of the state. Through this initiative, the REVA NEST in association with IIC intends to build an environment where there would be easy access to knowledge exchange and Innovation & Entrepreneurship activities with Startup Ecosystem support.
The following Points were disscused during the session
A one stop solution for StartUps, Incubators for ease of doing business and accessing all benefits and offers by REVA NEST through IIC
Help StartUps to be discovered by relevant stakeholders
Need funding or mentoring? No more an issue. We help you connect with investors, accelerators, and incubators
Helping investors, accelerators, and incubators discover curated, high-potential startups
Programs to help startups improve their chances of success
Content, workshops, and resources to help entrepreneurs
Organized By-REVA NEST
Date- 16/03/2023
Targeted Audience- Students of the Department of Chemistry
No. of Participants-120
Out Come of the Session- A collaborative program designed to help new startups succeed. Incubators help entrepreneurs solve some of the problems commonly associated with running a startup by providing workspace, mentoring, and training.