Session on Startup Journey by a Successful Alumni Entrepreneur
23-Feb-2023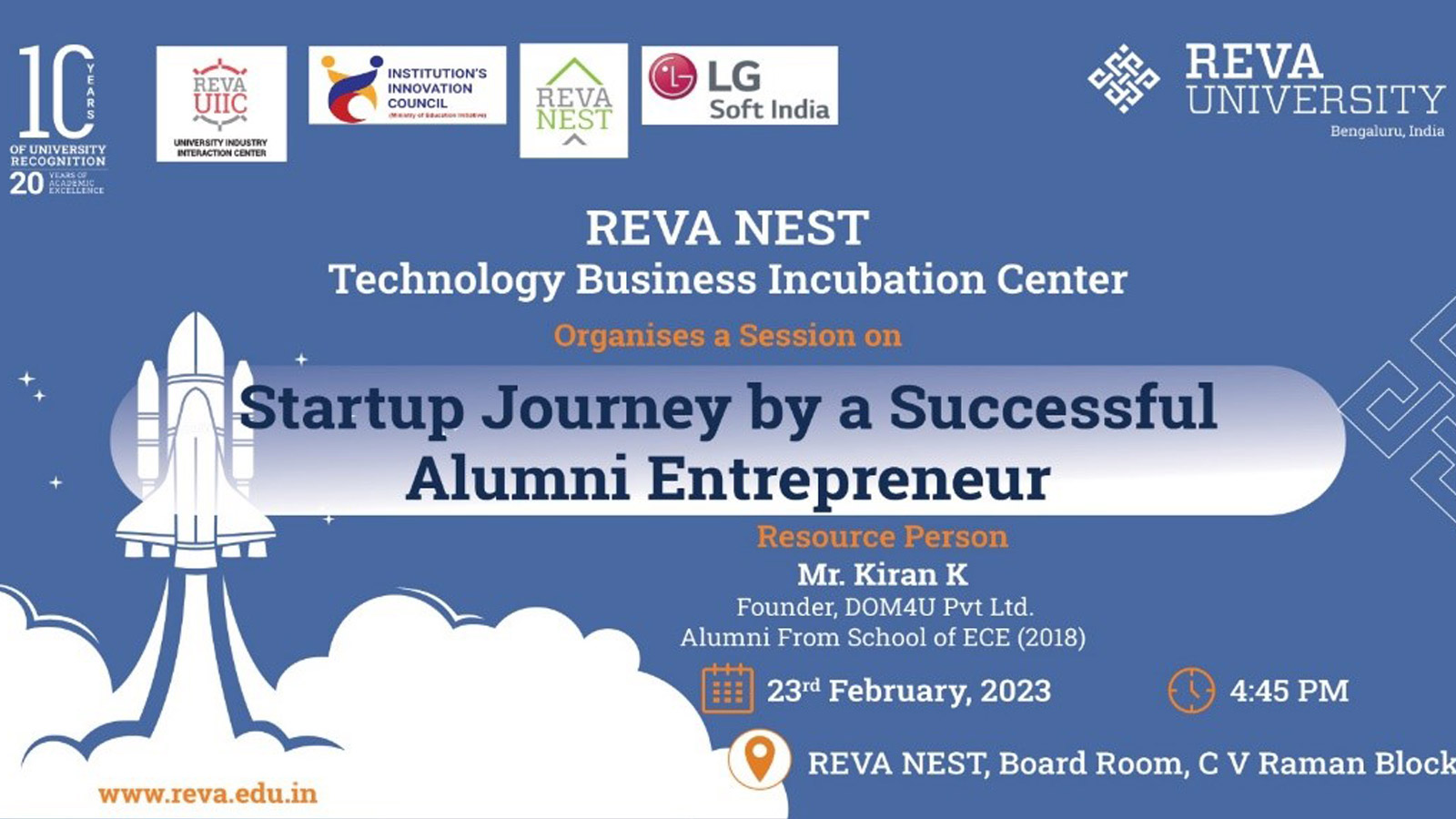 On 23rd February 2023, the REVA NEST- Technology Business Incubation Center organized an informative session titled "Startup Journey by a Successful Alumni Entrepreneur." The session aimed to inspire and educate aspiring entrepreneurs about the journey of successful alumni entrepreneurs.
Speakers
The session featured a prominent alumni entrepreneur, Mr. Kiran, Founder, DOM4U Pvt. Ltd. He shared his inspiring entrepreneurial journey with the audience, highlighting his experiences, challenges, and achievements. Mr. Kiran gave insights into his struggles during the initial phases of his startup, the importance of perseverance and hard work, and how he eventually managed to grow his business.
Key Takeaways
The session provided several key takeaways for aspiring entrepreneurs, some of which are as follows:
Perseverance and hard work are the keys to success in the entrepreneurial journey.
Networking and building relationships are crucial for a startup's growth.
It is essential to identify and solve problems in the market to create a successful business.
Having a clear vision, mission, and strategy is critical for the long-term success of the startup.
The importance of having a supportive team and seeking guidance from mentors and advisors.
Funding is essential for scaling up the business, and entrepreneurs should explore different funding options.
Organized By REVA NEST- Technology Business Incubation Center
Coordinator Name- Mr. Adithya Poojary
Date- 23rd February 2023
Time-04:45PM to 06:30PM
Targeted Audience-REVA NEST Pre-Incubation Batch 2
Total Students- 16 Students
Total Staff Members- 03 Staff Member
Outcome of the Event- Technology Business Incubation Center's session on "Startup Journey by a Successful Alumni Entrepreneur" was an informative and inspiring event. It provided a platform for aspiring entrepreneurs to learn from the experiences of a successful entrepreneur and gain valuable insights into the startup journey. The session highlighted the importance of hard work, perseverance, and a clear vision in the entrepreneurial journey and encouraged the attendees to pursue their entrepreneurial dreams.