Startup Journey: Session on Successful Student Entrepreneur
01-Dec-2022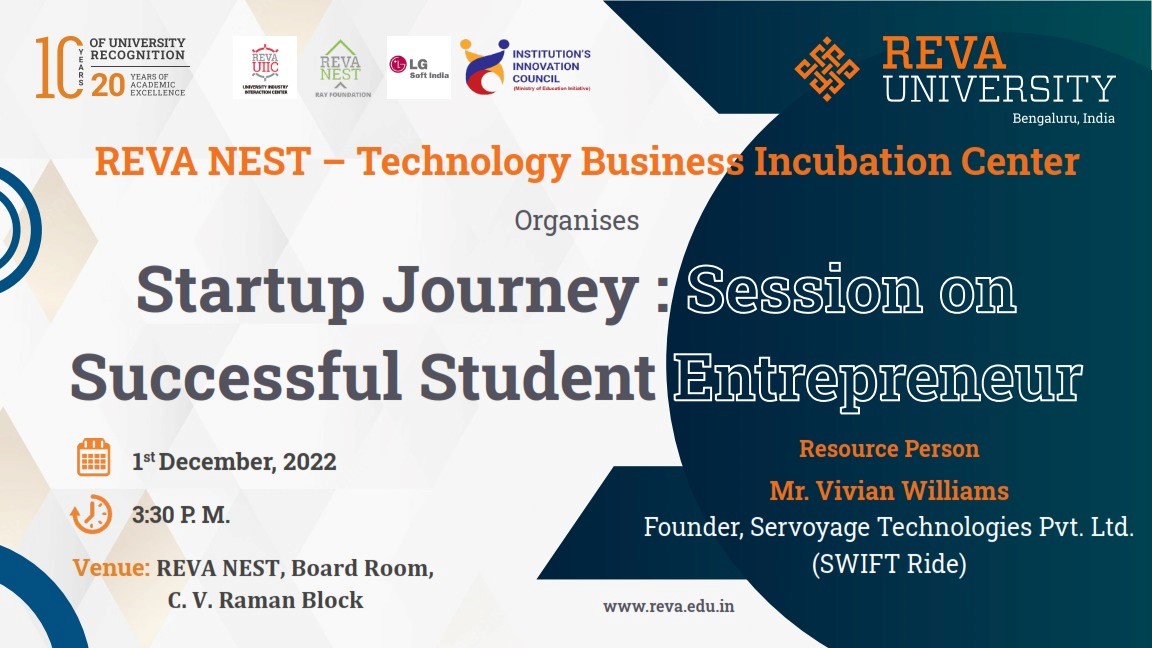 About Event- REVA NEST – Technology Business Incubation Center organized the session on a "Startup Journey: Session on Successful Student Entrepreneur on 01st December 2022 at REVA NEST Board Room at C V Raman Block Ground Floor.
Mr. Adithya Poojary, Assistant Manager, UIIC & REVA NEST TBI Welcomed the Resource person Mr. Vivian Williams and team for the Session. The Resource Person for the session is Mr. Vivian Williams, Founder, of Servoyage Technologies Pvt Ltd (SWIFT RIDE).
Organized By-REVA NEST – Technology Business Incubation Center
Coordinator Name-Mr. Adithya Poojary
Date-01st December 2022
Time-03:30 PM to 04:30PM
Targeted Audience-REVA NEST Pre-Incubation Batch 2
Total Students-26 Students
Total Staff Members-01 Staff Member
Outcome of the Event-In this Students of PREi Batch 2 Understood the Student's journey of Swift Ride with REVA NEST and overview of Swift Ride Startup Company with Problem Statement, Proposed Solution, Requirements & Unique Selling Proposition (USP).